What to be aware of for QU men's basketball's upcoming appearance in the MAAC tournament
Last March, the Quinnipiac men's basketball team was looking forward to once again appearing in the MAAC tournament. What the Bobcats learned is sometimes you can't foresee your future.
Concerns grew about if it was even safe enough to play because of the COVID-19 pandemic, as multiple Division I conferences decided to cancel their conference tournaments. MAAC Commissioner Rich Ensor was one of the last commissioners to cancel his conference tournament.
A year later, the Bobcats will travel back to Atlantic City, New Jersey, for the MAAC tournament. In terms of the competition, Quinnipiac is the No. 8 seed in the MAAC standings. When it comes to tournament play, it's all about late regular season results.
The Bobcats have been streaky, as they won three in a row, followed immediately by losing their last two games. This results in an 8-11 overall record and 6-9 in MAAC play. After defeating Rider on Feb. 20, senior forward Jacob Rigoni described what he thinks the key can be to being consistent.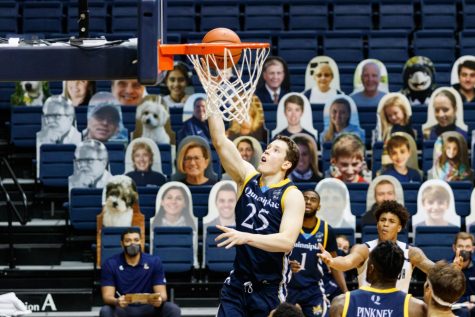 "For us, it was about coming together and learning from our losses and setbacks," Rigoni said. "I think that's what makes or breaks a team, and for us … it's communication by everyone, that's what's going to set us apart."
If the Bobcats finish the season as the No. 8 seed, they'd be set to take on the current No. 9 Iona Gaels. Iona canceled its remaining regular season games due to COVID-19 issues, but in recent history, Iona has been the team to beat in the MAAC tournament.
The Gaels have accumulated 12 MAAC championships, eight of which this century, but now have a different look with accomplished first-year head coach Rick Pitino at the helm. Does Quinnipiac have what it takes to beat a team like Iona? Well, if it does, it'll rely on these strengths.
The 2020-21 squad has emphasized specific aspects of its defensive scheming, mainly compelling its opponents to take poor shots from anywhere on the court and protecting the rim. As of March 2, the Bobcats are forcing opponents to shoot 40.1% from the field. That's second in the conference to Saint Peter's, who limits teams to 38.3%.
The Bobcats average 32.4% shooting from 3-point range, but they give their opponents a difficult time shooting from beyond the arc. Opponents have attempted 417 total 3-pointers and are held to a miserable 30.5%, which leads the MAAC.
Additionally, the Bobcats' interior defense is potent. They're third in the conference with 77 blocks and average 4.1 blocks per game. It helps having sophomore center Seth Pinkey, who's second in the MAAC in total blocks with 37.
The Bobcats are also effective on the glass, as they lead the MAAC with an average of 28.2 defensive rebounds per game (DRPG). They have accumulated 536 rebounds this season. That's an important stat because if the Bobcats do end up facing Iona, they'll have to deal with the Gaels' offensive rebounding.
Iona is currently second in the MAAC, averaging 11.2 offensive rebounds per game (ORPG) and accumulating 145 total offensive rebounds this season. The Gaels also lead the MAAC in total rebound margin with a plus-4.1 RPG. Conversely, Quinnipiac is second to last in the MAAC in rebounding margin, with a negative-3.7.
The numbers have shown that Quinnipiac has a lot of defensive metrics on its side, but what's the Bobcats' offensive identity? Part of it is the veteranship of Rigoni.
The Bobcats rely frequently on their 3-point aspect of their game. They've attempted 448 3-pointers and made 145 of them, both of which lead the MAAC. Throughout Rigoni's time at Quinnipiac, he's been considered the go-to guy for 3-pointers.
On Sunday, the Australian native hit his 254th 3-pointer, breaking the previous program record of 253. His running total is now 257 after Monday's game against Marist. As for the 2020-21 season, Rigoni leads his team in 3-pointers made with 50, with the next closest total being 28. He also leads his squad with 13 points per game and a 40% 3-point percentage.
It also helps that he's a career 1,000-point scorer and has played in MAAC tournament games before. So, if the game comes down to the wire, expect Rigoni to be one of the Bobcats' primary options.
Only three players on the Bobcats' roster have participated in a MAAC tournament game. Nine of its 14 players are underclassmen and Rigoni is the team's lone senior.
Head coach Baker Dunleavy isn't afraid to use his bench, as 14 players have at least seen the floor. Also, eight players average 21 minutes or more per game.
With a lot of youth, the Bobcats have needed some of its first-year players to showcase their skills. Two players who have grown into prominent roles are freshmen guards Tymu Chenery and Luis Kortright.
The pair each average 10 points per game, with Chenery's focus being efficiency. The Philadelphia native shoots an average 41% from the field. Kortright is someone who's filled into the secondary scoring role nicely.
Kortright has had an impressive late season surge, as in his last three games, he's accumulated 25 (career high), 17 and 12 points.
There's still a lot to be determined before tip-off in Atlantic City, but if some of those trends continue for Quinnipiac, it can go a long way in helping the team win its first-ever MAAC championship.