No. 25 Old Dominion tops Quinnipiac field hockey, 3-0, on Senior Day
[media-credit id=2278 align="alignright" width="300″]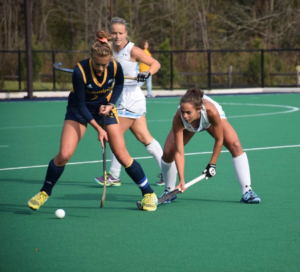 [/media-credit]The Quinnipiac field hockey team endured a 3-0 defeat to No. 25 Old Dominion on Senior Day, Friday afternoon in Hamden.
The Bobcats struggled offensively as they failed to get a single shot or penalty corner.
"We had a really hard time generating things," Quinnipiac head coach Becca Main said. "I would say that the part of the field that we didn't make good decisions is the attack redzone or the ARZ. We made really poor decisions. I think that's the first game we haven't had a corner all year, and that shows that we weren't getting things done on the front."
The Monarchs, on the other hand, made the most of their offensive opportunities. They scored three goals on 15 shots (12 on goal), two coming from penalty corners.
"The first half of the game, our game plan was to buy time, hold, and sit in space," Main said.  "Last two games, we went out and tried to go after them and we got hammered. So we wanted to come into this game in control of the first half, the pace, and the time, which I thought we did okay, but the second half was when we were supposed to unleash the attack, and it never happened for us."
Senior goalkeeper Hannah Teicher had an impressive day despite allowing three goals. She made nine impressive saves that kept the Bobcats in striking distance for the majority of the game.
As the seniors collegiate careers come to a conclusion, Main reflected on the freshmen's progression throughout the year.
"What I liked is as we've been moving through the season, you know, we're really young," Main said. "We have eight or nine freshmen, or first-year players, out there and we're starting to see them make their own decisions. And I think that's the biggest thing we've worked on in the last three weeks: Making decisions and sticking by them."
The Bobcats are very young this season, and the inexperience is shown through the results.  Quinnipiac fell to 1-5 in the Big East and 4-10 overall on the year.
Recovering from the Friday games may be an issue that the freshmen are having trouble with.
"I think when you're a younger team, sometimes the body isn't used to 70 minutes at the Division I level, so we're going to see if we can get some body recovery so that Sunday we can come out with a little jump in our step," Main said.
Quinnipiac will look to end its losing streak at six with a win against Sacred Heart, Sunday, Oct. 21 at 5 p.m. in New Haven.
In hopes to produce a win, Main is trying something new for the Sunday game.
"We have no practice tomorrow, and we're going to see how that feels," Main said.  "We're going to do an extra film session right before the game on Sunday. So we're going to try to let the bodies recover a little bit."