Disappointing debut
Matt Patricia's season opener for the Detroit Lions this past weekend was probably one of the greatest disappointments in NFL coaching history.
Patricia, who notably worked as the defensive coordinator for the New England Patriots, began his head coaching career with a 31-point upset loss against the New York Jets on the teams' home field.
The team has not suffered an upset like this since 2002, with a 49-21 upset to the Miami Dolphins, and has not had a greater point differential since playing the Redskins in 1991, according to USA Today.
[media-credit name="Photo Courtesy of @TYLE_R/FLICKR CREATIVE COMMONS" align="alignright" width="300″]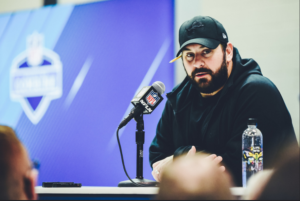 [/media-credit]This left many fans outraged, to the point where many of them got up and left in the beginning of the third quarter.
Talk about making a bad first impression.
Some notable failures from Monday night's game would have to be the team's utter lack of defense on the field, ironic for Patricia being a former defensive coordinator.
Furthermore, the Lions threw five interceptions, the Jets later claiming to know all of Patricia's plays and signals, according to the NFL.
Watching the game, I couldn't help but to yell myself. Seeing the Jets run for a 75-yard touchdown without a single man to stop them was pathetic, but to see them do it again with 66 yards was infuriating.
So where did Matt Patricia focus his time?
The Lions have never done more conditioning or running in their careers than they have under Patricia, according to ESPN. The team has even had disciplinary conditioning, running laps for bad plays or mistakes in practices. That being said, clearly it isn't working; otherwise the Lions would have been able to prevent the ridiculous touchdowns from the Jets this past Monday.
Furthermore, Patricia also focused on encouraging the team to engage in more tackling and contact, even getting on the field and participating himself.
"At some point you have to go live," Patricia said defending his tactics at an open practice. "You have to be able to experience that both offensively and defensively because you don't want to do it for the first time in a game."
Maybe he should've been a little more hands-off and focused on plays, rather than playing himself.
However, this game alone is not Patricia's only disappointment.
Even during preseason for the Lions, the team only beat the Tampa Bay Buccaneers, and only by a mere three points.
In their other two games, the Lions lost to both the New York Giants and the Cleveland Browns with only 17 points to their name. Maybe 17 just isn't Patricia's lucky number.
If we really want to be superstitious about this, Patricia may just be another victim to Bill Belichick's moderately unsuccessful coaching tree.
Take Romeo Crennel, with a 24-40 record (.375 winning percentage) with the Browns, and Eric Mangini, with a 23-25 record for the Jets.
Belichick's winning percentage is almost .300 points higher than that of his former staff. This resulted in a reputation where both men were considered failures coming out of a Belichick association, Mangini even being fired for not meeting expectations.
Is Patricia at risk of being just another statistic?
That being said, maybe I'm just being quick to judge. It is only the first game of the regular season, after all.
Then again, Patricia is already starting to lose his team, as many confess they are unhappy with his new team rules and ways of coaching, according to the NFL. Clearly his tactics are reflecting in how the Lions play the game.
Patricia will have the opportunity to redeem himself this Sunday, as him and the Lions take on the San Francisco 49ers.
But the true test of his coaching ability will be when he takes on Belichick and his former team themselves, the New England Patriots, on Sept. 23.
Personally, I look forward to seeing Patricia's losing streak continue.
You don't know what you've got till it's gone, after all!