To all the viewers who hate rom-coms
Time after time, critics consider romantic comedies, or rom-coms, repetitive or predictable. However, this wasn't the case on Aug. 17 when Netflix original film "To All the Boys I Loved Before" was released.
On the heels of a sweeping change of the guards in Hollywood following the #MeToo Movement and the increase of female representation, it was a rare tandem for an Asian writer and lead actress to headline a film in America. 
[media-credit name="PHOTO COURTESY OF @NETFLIX / INSTAGRAM" align="alignleft" width="253″]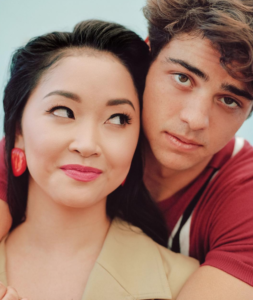 [/media-credit]The film was inspired by Jenny Han's 2014 book of which the film shares its name. Playing the lead is Lana Condor, whose first big role came in "X-Men: Apocalypse" in 2016.
The film is an ode to high school hopeless romantics, as it centers around a high school sophomore who longs to fill a void in her life. Lara Jean Covey, the story's protagonist, deals with the passing of her mother, growing apart from her best friend as he starts dating her older sister and then missing that same sister when she goes off to college.
Just like many others at a young age, she is struggling to get her life in order. Viewers can relate to her frantic driving  and cluttered room that gets messier and messier as the days go on.
But when her younger sister releases letters she has written to all of her former crushes but had never sent, Lara Jean's life changes drastically.
Because of these letters, she reconnects with Peter Kavinsky, a guy she kissed in an all too familiar awkward middle school spin the bottle game. Little does Lara Jean know that in the midst of this dysfunction comes the person she spent her whole life reading about in romance novels.
"To All the Boys I've Loved Before" resembles any other teen romantic comedy at first glance but the audience would soon find that there are more engaging characteristics to this film. Despite the rather simple script and scenes, the true entertainment comes from the work of the cast.
Condor truly encompasses Lara Jean's awkward but lovable personality, which compliments Noah Centineo's confident jock-type performance as Peter Kavinsky. While Kavinsky sounds like a cliche character that we've all seen before, Centineo gives a sense of innocence and honesty with his portrayal.
The most entertaining performance comes from Anna Cathcart as the Convey family's youngest member, Kitty. Cathcart adds a bit of fearlessness and sass to her 11-year-old character that has the audience laughing and falling even more in love with the film. She is perfectly placed in every scene, whether it's eavesdropping on her older sister and Peter having a thoughtful conversation about their relationship or climbing into the passenger seat of a car with a helmet on, in preparation of her sister Lara Jean's horrendous driving.
Even the film's antagonist Genevieve provided some relatability for viewers. Genevieve's cold and snarky revenge tactics fueled the initial divide between her and Peter, but this allows the bond between Peter and Lara Jean to grow stronger. 
The writing was a spot-on portrayal of the real hardships of high school and how cruel some people can be, and probably even left some of the audience with unpleasant flashbacks of their own experiences. This relation makes the moment of Peter standing up for Lara Jean in a crowded school hallway feel all the more triumphant for those who have been in her shoes before.
This film was set to make headlines in its own right for the accomplishments of the writer and lead actress, but instead made a name for itself with its sheer relatability and impeccable execution.