Campus-wide ATMs switch from TD Bank to People's United Bank
Quinnipiac's Office of Finance announced the transition in ATMs and banking services across the three campuses from the previous sponsor, TD Bank, to the new 10-year banking partnership, People's United, on Tuesday, Aug. 14.
The new partnership was originally announced in May after TD Bank's sponsorship was not renewed at the end of it's 10-year contract on June 30, 2017, Donald Weinbach, vice president for development and alumni affairs said in a previous Chronicle article. At that time, Weinbach noted that the TD Bank ATMs located in the Carl Hansen Student Center and in Perlroth residence hall would remain a part of the campus despite the removal of the company's name from the sports center.
[media-credit name="Morgan Tencza" align="alignright" width="300″]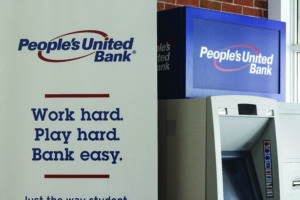 [/media-credit]"I'd imagine that if a bank comes in and wants to put their name on the sports center for 10 years and has a banking relationship with the university that we may see a change," Weinbach said in September. According to Weinbach, the campus' banking services address a separate transaction.
Having since partnered with People's United Bank, the university's Office of Finance announced in an email to the Quinnipiac community that those changes will in fact become a reality in the fall.
The first People's United Bank ATM was  installed in the Carl Hansen Student Center before students returned for the fall semester. Four more ATM's are expected to be installed across the campuses in locations such as the North Haven Campus, Rocky Top Student Center and the People's United Center, previously TD Bank Sports Center, by the end of 2018.
For students who originally transferred to TD Bank when coming to Quinnipiac, the switch to a different bank before graduation proves to be quite the inconvenience.
"Before coming to college, I actually had People's United Bank but switched because the school had TD," Maria Impastato, junior psychology major said. "I just think it's so inconvenient that I'm going to have to go through the process to switch back again three years into my time here."
Many students unable or unwilling to change banks have expressed a lot of distaste towards this new partnership. Despite the fact that some may not mind what name is emblazoned on the sports center, students are definitely lashing out about what the change will mean for them financially.
"I wouldn't mind the switch if I had a bank account that reimbursed me for my withdrawals or allowed me use other ATMs without a fee," Madeline Chiapperino, junior mechanical engineering major said. "But TD Bank charges minimum three dollars when withdrawing from a non-TD ATM which will add up over time if I'm unable to get off campus to Dixwell."
Although the school encourages students to make the switch, students are finding it difficult to justify transferring to a bank not accessible in their hometowns.
"People's United isn't necessarily a popular bank in New Jersey, where I'm from, and I had honestly never heard of it until Quinnipiac announced the new partnership," Chiapperino said. "It's just really hard to get behind transferring to a bank I won't even be able to access at home."
As of Monday, Aug. 27, TD Bank ATMs still remain across the campuses in locations such as Rocky Top and Perlroth. These ATMs are still functioning and have signs on them that state they are set to be removed on Sept. 24.
All of the current TD Bank locations at Quinnipiac, including the TD Bank branch in the student center, are expected to be removed no later than Oct. 15. In its place, People's United Bank intends to open a studio that will include a lounging area with banking technology replicating that of Quinnipiac's previous TD Bank branch.
For those who used TD Bank for their banking services, People's United Bank employees were present during orientation on the Mount Carmel Campus to help students open and transfer their accounts.
Students or faculty who wish to continue using TD Bank ATMs will now need to use the branch office located at 2992 Dixwell Ave.
If you wish to receive more information on People's United Bank or the transition, call People's United Bank at 203-248-1115 or visit www.peoples.com/QU.
CORRECTION: The article previously stated that the TD Bank ATMs were set to be removed Aug. 24 and has been corrected to the proper removal date of Sept. 24.