Quinnipiac and Chartwells partner up for One Million Acts of Good campaign
[media-credit id=2228 align="alignright" width="199″]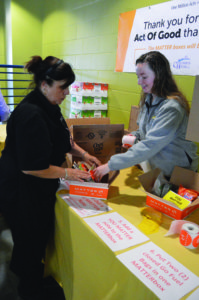 [/media-credit]Quinnipiac organizations and Chartwells teamed up to contribute to the One Million Acts of Good movement on Feb. 28.  A station was set up in the Upper Cafe across from Revolution Noodle and Sushi from 2 to 4 p.m. for students to attend the event and fill empty boxes with food to be donated to charity as a part of the movement.
The act of doing a good deed and posting it to social media was started last September by Ellen Degeneres and General Mills' Cheerios. They partnered up to create the One Million Acts of Good Movement.
The movement was created to inspire people that one act will make a difference in an individual's life or the community as a whole. They would be broadcasted on Degeneres' daytime talk show as well as her social media platform, Ellentube.
Degeneres did this in the hopes that it would inspire people from all different places and backgrounds to spread goodness in society. Anyone is allowed to share their acts, some are even featured on her talk show.
"Whether holding the door open for someone or giving someone a compliment, Cheerios and Ellen want to encourage people to embody their slogans, 'Good goes around' and 'Be kind to one another,'" Erika Conaci, an executive board member who helped facilitate and monitor the event, said.
Anyone is able to do this and express their acts of kindness, and this left a perfect opportunity for the Quinnipiac community to get involved and benefit those who are less fortunate.
"We are very excited to be joining this movement. We have heard great things about this event and how it can greatly help people in need," Leean Spalding, director of dining services for Chartwells Higher Education Dining Services, said. "It is important to all of us at Quinnipiac and within Chartwells to give back to the community."
Students who attended the event were encouraged to post on social media to promote the event and emphasize their good deeds.
"I think it's really good that Chartwells is doing this," Liana Calandra, a sophomore business student, said. "They obviously don't have to but it's good to see that Quinnipiac cares about giving back to the community outside of our school," Students are proud to be at a school that promotes community service to help neighboring communities.
Chartwells is planning to expand its dining programs to over 280 college campuses that the company serves so there can be more community service events and free pop ups. By being involved in the One Million Acts of Good Movement, Chartwells is prioritizing its plans to move forward and give back to the community it has served since Quinnipiac 1986.
Anyone within the university community was given the opportunity to fill small boxes with food such as granola bars, Cheerios, chips and handwritten notes of encouragement. Professors, students, Chartwells employees and others attended this event. The boxes that were created are being donated to AIDS Project New Haven, New Reach and Columbus House, which are three local non-profit organizations.
The organizations involved in making this possible were the QU Dining Experience, Office of Community Service and Big Event.
"Chartwells reached out to us and asked if we wanted to help. We thought that this was a great event and we are glad that Chartwells asked us to be a part of it," Conaci said.
Chartwells provided the food that was being donated in the boxes. In total, 300 boxes were created in the two hour timespan and are being donated to the three New Haven nonprofit organizations.
"I think that this is a great way to get involved in the community surrounding Quinnipiac," Josh Hertel, a sophomore computer information systems major, said. "The opportunities each of us are given to be a part of the surrounding community and to make a difference in someone's life is one of the many reasons I decided to come to QU."
There are more community service events similar to this being planned in the upcoming semesters in order to encourage students to be proactive in giving back to others during their time at Quinnipiac. Events like the One Million Acts of Good Movement are able to show students that even a simple good deed such as filling boxes with small food items can make an impact on a person's life for years to come.