Now playing- "Masseduction" by St. Vincent
[media-credit name="Photo courtesy of Billboard" align="alignright" width="300″]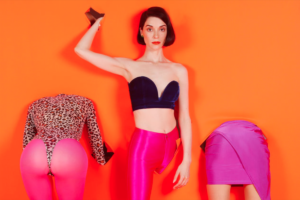 [/media-credit]St. Vincent (born Anne Clark) is one of those musicians that is mythical with her methods. She comes from the David Bowie school of having a specific type personality along with her music. Bowie was an outer space alien and flipped gender roles on its behind. Clark is impervious, longing for something and often frustrated. This is most evident in her latest release, "Masseduction."
The idea of getting more famous and looking back at the past has been spoken about in music since the The Beatles became, well, The Beatles. It is hardly a novel subject matter.
This makes Clark's work on her album all the more impressive. An artist making something well-known sounds original is an attribute that separates the haves from the have-nots.
On two songs, Clark looks at her career in the center of two famous cities. ''New York'' is a Lorde-sounding (It makes sense – Jack Antonoff, who produced Lorde's Melodrama, also helped produce this album) song about the wish for a different New York than there once was. Something is different. Someone is missing. And there's no getting him/her back. It is a fate that isn't rare in human interaction, but it hurts. Something happened, and there is no getting it back, no matter how hard you try.
''Los Ageless'' is a tale that takes place in Los Angeles. It sounds like it could have been in the movie ''Mulholland Drive''. ''New York'' is short, subtle, and low-key. ''Los Ageless'' is explosive. It has guitar riffs and synthesizers done by Jack Antonoff. There's an authenticity missing in that city. She deduces: ''In Los Ageless, the winter is never comes.'' Something is missing again. But this time, it's a livelihood.
With this album, Clark is attempting to make her act, St. Vincent, as big as any pop act out right now.