Four times the charm
[media-credit id=2182 align="alignright" width="197″]
[/media-credit]On Dec. 23, 1998, Michael, Vincent, Sofia and Anna Ciacciarella all came into this world within three minutes of one another in the Yale-New Haven hospital.
The quadruplets from Naugatuck, Connecticut have entered the next chapter of their lives as college students 18 years later. However, this experience is one they never pictured going through together.
Just last week, the Ciacciarellas began their freshman year at Quinnipiac. And no one was more surprised by the choice than the quadruplets' parents.
"Never in a million years," the siblings' mother, Anne Ciacciarella, said when asked if she foresaw that all of her children would choose to study at Quinnipiac. "My husband and I were in shock more than anything that they decided individually to stay together. Their plan was always to separate, not be close to home and not be in Connecticut!"
"They low-key wanted all of us to go to the same school," Vincent said of his parents. "But they'd never admit it."
The quadruplets themselves never imagined this reality, either.
"We all wanted to go to separate schools, be hours apart and be independent for the first time," Anna said. "It was never intentional to end up at the same school."
Although choosing to study at the same college may have been unexpected, all four siblings were looking for a school with strong undergraduate programs along with plenty of extracurricular activities and internships in their chosen areas of study.
Ultimately, their decision to become Bobcats rested on a combination of all the opportunities Quinnipiac has to offer.
Their mother praises Quinnipiac's abundance of opportunities as well as the welcoming and accommodating nature of the university's faculty and staff.
"Everyone at Quinnipiac has been amazing with us as a family, really going above and beyond in assisting us with our unique situation of moving four children into college at the same time," Anne said. "There were also very few schools that appealed to all of them given their academic interests but Quinnipiac has everything all four of them were looking for in a college."
"I don't have an exact career in mind, but I have the feeling that Quinnipiac helps you to really shape your future goals and steer you in the right direction," Anna said. "I think I'll find what I'm looking for, even though I don't know what it is yet."
And there is no better place to discover yourself than a college campus.
Being only 30 minutes from their hometown, many would argue that the siblings are staying well within their comfort zone. But even while attending the same university, the quadruplets have made stepping outside the boundaries of their foursome a priority. They are making sure they have their space to grow as individuals with interests and aspirations of their own.
"I think we're all looking for the chance to branch out and be our own person here," Sofia said.
The choice to go in random was a large step in this direction. When they applied to nearly 50 schools across the country, the Ciacciarellas imagined themselves hours and miles apart.  Instead they are a five minute walk to each other's dorms.
"We still wanted to live somewhat separate lives," Michael said.
So far, they seem to be on the right path, as they all plan on embarking on their own different journey.
Michael is a civil engineering major who is interested in designing highways, bridges and other transportation structures while Vincent, a media studies major would love to one day be a news anchor. Sofia is majoring in biology on a pre-vet track and Anna is an English major who hopes of one day working in environmental journalism and writing to make an impact.
"Quinnipiac seems like a good place to start environmental studies and I'm hoping it will leave a lasting effect and a permanent major can be put into the College of Arts and Sciences," Anna said.
[media-credit id=2182 align="alignright" width="300″]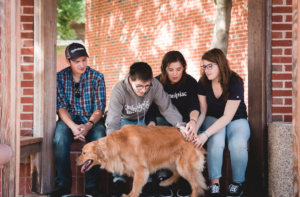 [/media-credit]By following each of their varying interests and passions, all four of the Ciacciarellas seem determined to realize each of their full potential.
"We hope that they knit themselves individually into the fabric of the Quinnipiac community where they can contribute to the greater good of making the world a better place in their chosen fields," Anne said.
The four freshmen seem to be doing just that. After attending the Quinnipiac's Involvement Fair last Wednesday afternoon, the quadruplets signed up for more clubs than they could count.
As an engineering major pursuing his love of music and nature, Michael joined pep band and hiking as well as several engineering organizations.
Vincent, being a communications major, hopes to become involved in student media and in student life in general. In addition to signing up for the TV and radio stations and QU After Dark, Vincent chose clubs where he would learn the skills to become an RA and an Orientation Leader.
In preparation for vet school, Sofia joined the Pre-health Professions Club. To indulge in her other interests, she made sure to sign up for service organizations like Relay for Life and Habitat for Humanity.
Sharing a love of nature and environmental science with her siblings, Anna chose hiking and Habitat as well as The Big Event and Global Solidarity. Her interest in creative writing and poetry also led her to Montage where she hopes to express her artistic side.
Coming from an arts high school in New Haven, Cooperative Arts and Humanity High School— commonly referred to as "Co-op" by the students there— it's no wonder the siblings share a love of music and the arts. They give a lot of the credit to their old school for instilling and fostering this creativity of theirs.
Michael, who has been playing the saxophone since the fifth grade, was in his high school's jazz band, wind ensemble, and pit orchestra. Vincent has played the trumpet since middle school, during which Sofia took up the piano and clarinet. The brothers were also involved in their high school's theatre department. While Vincent participated in the drama program, Michael was more interested in a backstage role as he worked in technical theatre. Anna also pursued a creative outlet when she worked at a theatre arts camp as a creative writing teaching assistant. There she helped students from grades five through eight to improve on their writing, even taking lead in the camp's poetry lessons.
Although they have several overlapping interests and hobbies, just like any group of siblings, each is unique in their own way.
"Michael is shy and sweet, with a big personality while Vincent is the goofball," Anna said of her siblings. "Sofia is the focused and determined one while I'm sort of the chill peacemaker of the group."
These differences seem to only bring them closer as well. Their relationship as siblings and friends remains just as strong.
"I don't know if they are closer than most siblings but, they certainly have a unique relationship and there's almost like an invisible thread that runs between them that even they don't realize is there," Anne said of her children.
"If any of us ever need anything, we know we have each other," Sofia added.
In addition to having strong home, academic and extracurricular foundations, all four students possess strong qualities found in young college students— a genuine interest, passion and determination to make the world a better place.
They may not know exactly where the path of these next four years may take them, but they are eager to see, wherever that may be, together.