Defying the odds
Black suit, tight tie, slicked back hair, American flag pin and a firm handshake.
Black sweatshirt, gray converse, Ray Ban reading glasses and a laptop sticker that says, "Stop Bitching, Start a Revolution."
Which description fits your idea of the future president of America?
Lou Poggioli doesn't just want to just change the world; he wants to run the free world.
"When you see the problems of the world, you either accept them or you think you can do better, and I think I can do better," Lou said.
Lou isn't the typical college senior trying to make it into the world with an entry-level job. He will graduate from Quinnipiac in May with a bachelor's degree in political science and the same aspiration he has had since high school: to be the president of the United States of America.
***
Lou sits on a couch in the WQAQ radio station with his foot on his knee, holding his laptop. He concentrates on his screen as he plays Rome: Total War. People in the room ask him political questions as he is wrapped up in the the game.
"What makes someone an American?" someone asks.
Another person asks Lou to tell them what he thinks.
"Why does everyone always ask me for my opinion?"
He neglects to answer the question.
Just across the way from WQAQ's radio station is the Student Government Association suite, a place where most would wander if they wanted to become the future president, but Lou chose a different path. He found he could do more in WQAQ.
"SGA is a puppet government," he said. "In all seriousness, I didn't see the point. I don't think they get enough done to warrant my participation in it. Given the structure at WQAQ, I could do more for them than what I do for SGA. I think that based off of where I am in WQAQ today, it's reflective of that."
[media-credit id=2020 align="alignright" width="300″]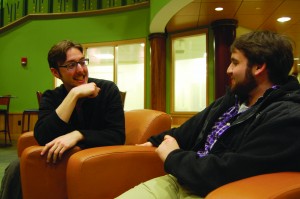 [/media-credit]
Lou is currently the secretary and events manager of WQAQ. He is the main contact for the members and helps plan small events with members of the radio station.
In-between classes, Lou spends his time in the station, talking to different radio station members, like WQAQ Music Manager Jon Hammer, about different political issues, always sharing his opinion on any subject.
"In the actual station, he hangs out a lot, and will give his opinion whenever a debate comes up," Hammer said. "[He] stays up to date with the news, so he's very resourceful."
Few people have had an impact on Lou. His mentor, Steve Balkaran, an instructor in the department of philosophy and political science, shaped Lou's current worldview.
"A lot of my beliefs is directly because of what he has taught me," Lou said.
Balkaran came to Quinnipiac the same year Lou did.
"His philosophy was quite similar to mine, one of social change and equality in society," Balkaran said.
Balkaran said Lou has attributes that would make him an asset to any community.
Lou feels he has always been the peacekeeper between his friends and family. He plans on taking his role as a peacekeeper and using it for his career.
"What I strive to be is that mutual third party, even in my own life," he said. "I try to remain entirely objective of my feelings and everyone elses so that the best path is what's chosen."
***
Lou sits in his American constitutional law class, where the students' desks form a circle. Prior to the formulation of his answer, he pulls his sleeves over his hands, covering his knuckles and shares his opinions about the court cases that the class discusses. But as the discussion intensifies, Lou uses his hands to communicate and a glimpse of his Italian roots come out.
Poggioli's grandmother often shared her beliefs and perspectives with him as he grew up.
"She provided me with a moral compass," he said. Lou tried setting an example for his brother just like his grandmother did for him.
Lou's younger brother Stefan Poggioli said Lou's the "the loudest in the family."
"His voice always projects over ours," Stefan said. "I guess you could say he rather keep peace and not have to be involved in or listen to us argue. Growing up he was the smartest out of our brothers so he basically set an example for me and my younger brother showing us we could also do really well."
Both his uncle and his grandmother taught Lou to not accept why things are the way they are.
"Everyone has the potential to be and whoever it is they want," he said. "The problem is that people don't see that. They accept the boundaries that are set for them."
Lou's father has high expectations of him, he said, and would scold him when he would do anything less. It came to the point where enough was enough for him. He is where he is today because of himself and not because of where his parents wanted him to be, he said.
"I'm as capable as I am not because I was told to, but because I wanted to," Lou said.
His father did, however, influence him to apply to law school.
Lou is accepted the law schools at Drexel, Hofstra and Catholic University. He wants to join the foreign services but is mindful of the fact that he might not have the right credentials. He thinks going to law school would be a proper step to take before joining the foreign services.
The foreign service deals with relationships with other countries. In simple terms, Lou wants to be the peacekeeper between other countries. Lou believes war is not the answer, but rather sitting down and talking things out and actually listening to what others have to say.
"Despite my heated demeanor, I prefer the path with the least amount of conflict in it," Lou said. "Violence is the complete breakdown of communication. That usually occurs when no one is willing to come to the table and talk."
He doesn't see anything being resolved by people not being honest with each other. He believes that people, too often, talk about others behind their backs rather than confronting them.
Within the foreign services, there are five different areas that people can work as: management, economic, consular, political and public diplomacy, according to careers.state.gov. Lou sees himself as a political officer where he would have the opportunity to work with other governments concerning political matters.
 He must take a test to get his spot in the foreign services. The first one available to him is June 8, 18 days after graduation.
Lou speaks with great confidence as he describes his career plan. After being in the foreign services, he would run for office, being so young, he might run for senate or congress first, then take the final step and run for president.
"That way I can say I have foreign policy experience and domestic policy experience so I have the most well-rounded set of experiences that would make me qualified to run," he said.
Former U.S. President George Washington is Lou's hero. He expresses how Washington led the country in a time of crisis and didn't let power go to his head.
"It was a time in history where you could say someone was fighting for ideals and not for their own power," Lou said. "And sure everyone's ambitions come into play, but at the end of the day, he didn't let his get in the way of him."