Album Review: Tristan Prettyman
"Wish I would've listened to myself, would've thought I'd known better, shouldn't trust my heart this time but the mind, it changes like the weather."
[media-credit name="Photo Courtesy of Bryan Rosengrant/Flkr Creative Commons" align="alignright" width="300″]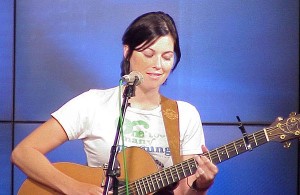 [/media-credit]
Those are the first few words of "Never Say Never," the final track of easy listening, beachy soul singer Tristan Prettyman's latest record, "Cedar + Gold." Simple, powerful and instantly relatable, those lyrics define what "Cedar + Gold" is about: moving on from a heartbreak.
With a sound that's a fusion between Sara Bareilles and Colbie Caillat, Prettyman has a voice that is hauntingly beautiful. It's soft, yet powerful, and will make an impact on listeners after just one line. However, it's Prettyman's lyrics that really shine. From the softer, sadder songs, such as "I Was Gonna Marry You," to the exquisitely written track, "The Rebound," Prettyman shows her talent for writing lyrics.
"I lost my number, can I have yours, and I'm not positive, but I'm pretty sure that your shirt would look better on my floor," Prettyman sings in "The Rebound."
"The Rebound" is witty, borderline raunchy at times, and a break from songs girls will cry to. It tells the tale of bouncing back after a bad breakup from an honest point of view, leaving nothing out, no matter how crazy. The smooth blend of Prettyman's voice and the light strum of a guitar in the background makes this track a must listen.
However, it's "Never Say Never" that makes the biggest impression. Like every song on "Cedar + Gold," the lyrics are raw. The real gem of the song is the last minute and a half, where she talks about life, love, the beach and everything in between. Prettyman spills her soul, offering words of wisdom to listeners.
"Cedar + Gold" is a culmination of honest songs that can strike a chord with any listener's heart. Her heartbroken advice will resonate for months to come.
Rating- 5 out of 5
Buy- Everything
Skip- Nothing