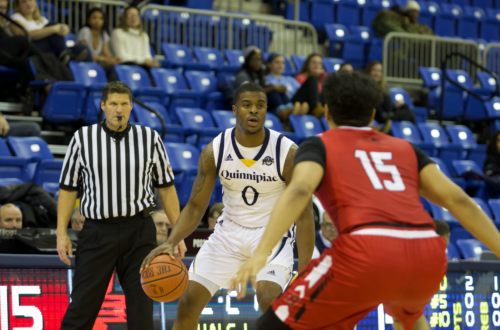 The Quinnipiac men's basketball struggled on both ends of the floor on Thursday, falling to the Hartford Hawks 68-54 at People's United Center in the home opener.
Quinnipiac (0-2) shot a paltry 34.5 percent from the floor, while Hartford (1-3) shot 56 percent in the first half and 46 percent for the game.
"Hartford's a better team right now," Quinnipiac head coach Baker Dunleavy said. "To lose to Hartford isn't the point. It's just disappointing to play the way we played.
"I felt like our guys came out a little tentative and not aggressive. Hopefully we can learn from it. Obviously we did that last year earlier in the season, we had some disappointing losses early, but I felt we grew from them and that's going to have to be the plan this year."
The Bobcats defense broke down on multiple back door cuts in the first half and allowed a buzzer-beating three to go into the break trailing by 13.
Defensive breakdown in transition to end the half leads to this buzzer-beating 3-pointer by Max Twyman. Bobcats have struggled on both ends in this one. #MAACHoops pic.twitter.com/1LBfRCzMv6

— Peter Dewey (@peterdewey2) November 16, 2018
This continued into the second half, as Quinnipiac left Hartford's second-leading scorer, redshirt senior John Carroll, wide open for back-to-back threes, prompting a Dunleavy timeout.
Carroll finished with 22 points on 8-for-13 shooting and eight rebounds to lead the Hawks.
"I thought they got some good looks early just because of our inability to execute defensively," Dunleavy said.
The Bobcats turned the ball over 11 times in the first half, which was as many as they had all game in their opener against Villanova.
The Bobcats went to a three-quarter-court press after the under-16 timeout, which helped generate some offense as graduate student guard Cam Young knocked down a pair of 3-pointers and assisted on a layup by junior guard Travis Atson, cutting the Hartford lead to 42-35.
The looks on offense were there for Quinnipiac in the second half, but it shot a pedestrian 8-for-29 (27.6 percent) from beyond the arc in the game.
The shot doesn't fall, but this skip pass by Williams (@YungRese_4 ) is exactly what the Bobcats need to break this Hartford zone. #MAACHoops pic.twitter.com/av980DMilO

— Peter Dewey (@peterdewey2) November 16, 2018
Hartford's 1-3-1 zone defense made it tough on Quinnipiac attacking the rim, leading to the poor shooting night.
"It's just kind of hard to get shots [against the 1-3-1]," Young said. "We got some open looks we just weren't knocking them down."
Dunleavy said that even if you prepare for a 1-3-1 zone in practice, it's still hard to translate it to facing one in a game.
"[Hartford] hurt us with it a little bit last year at their place," Dunleavy said. "We thought that they might use it again and we just didn't execute great against it."
Young led the way for the Bobcats with 17 points, six rebounds and two assists, but shot just 6-for-18 from the field.
"I didn't shoot the ball too well today," Young said. "[I need to be able to] answer in practice after having a bad game."
[media-credit id=2200 align="alignright" width="300″]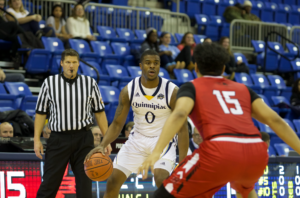 [/media-credit]Atson chipped in 11 points on 4-of-7 shooting and senior guard Aaron Robinson added eight points and three rebounds off the bench.
The Bobcats have now tallied 53 and 54 points in their first two games and have shot just 34.2 percent from the floor, while their opponents have shot 46.6 percent.
Without sophomore point guard Rich Kelly, there has been a lack of playmaking on the offensive side of the ball, as Quinnipiac has totaled just 14 assists through two games.
"Rich gets our guys going and he makes guys better," Dunleavy said. "I think right now we don't have a player that is getting guys easy shots and naturally helping guys be better."
Dunleavy praised freshman guard Tyrese Williams for stepping up in Kelly's absence despite not being a true point guard, but Williams struggled in this one, shooting 3-for-12 and tallying just two assists.
"Obviously not having [Kelly] out there makes it a little bit tougher," Young said. "I think we have some guys stepping up. We're going to learn from it, watch the film and see what we need to do better."
The Bobcats will look to rebound after dropping the home opener as they go on the road to battle New Hampshire on Tuesday, Nov. 20.
"It's never promised that you're just going to win games because you're playing at home," Dunleavy said. "You have to dig in and earn things and this team has got to learn to do it."