[media-credit id=2158 align="alignright" width="300″]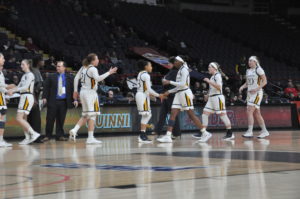 [/media-credit]I'm sure you've heard by now that the Quinnipiac women's basketball team was awarded with a nine seed for the NCAA Tournament and will take on the eighth-seeded University of Miami in the first round.
I'm also sure that you've heard someone bring up that this, in fact, is a rematch of last year's second round game in tournament in which the Bobcats upsetted the Hurricanes, 85-78.
Even though the game happened a year ago and both teams lost key players from last season, we should take a look back at that game to see how the Bobcats pulled off the upset and if they can defeat the Hurricanes again on Saturday.
Two common cliches that basketball analysts like to say will "be the difference maker" are turnovers and rebounds. But in its matchup against Miami last season, the Bobcats lost the turnover battle, 14-10, and the rebound battle, 39-34.
So, how did the Bobcats win?
It was because of shooting. The Bobcats outshot the Hurricanes from the field, 46.7 percent to 42.2 percent, and from the 3-point line, 57.7 percent to 45.5 percent.
Now, 3-point shooting percentage may look like a small difference from the surface. However, the Bobcats shot 26 3-pointers, making their percentage an absurd number as nearly half of their 60 field goal attempts were from behind the arc.
It's an even more absurd number when you add the fact that the Bobcats shot 31.1 percent from three in 2016-17.
However, it wouldn't be as absurd if Quinnipiac is able to pull off something similar.
To begin, the Bobcats are shooting better from 3-point range this season, shooting at a 34.5 percent clip. In fact, they've gotten better as the season has gone along as they shot 37.4 percent from three in conference play. The Bobcats are 25th in nation in 3-pointers made per game, averaging 8.7 makes from behind the arc.
With that being said, there are a couple of caveats.
In last year's game, then-senior forward Morgan Manz shot 6-for-8 from 3-point range. Then-senior guard Adily Martucci shot 3-for-4 from behind the arc, including a bucket that put the game out of reach with under a minute left.
So, who will have to step up this year?
The first person the Bobcats will look to is redshirt junior forward Jen Fay. Fay, who only played 15 minutes in last year's game due to foul trouble, led the MAAC in 3-point shooting percentage this season (48.7 percent in conference play).
But during Quinnipiac's tougher non-conference schedule, Fay shot 32.1 percent from behind the arc. Whether Fay can continue the rhythm from the last 21 games will definitely be a factor in Saturday's game.
[media-credit id=2158 align="alignright" width="300″]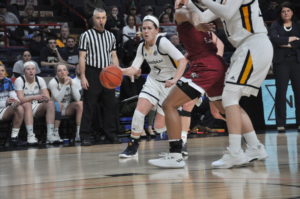 [/media-credit]Senior guard Carly Fabbri was the MAAC's second-best 3-point shooter, shooting 45.8 percent from behind the arc in conference play and 41.4 percent for the season. She also made both of her 3-pointers in last season's game against Miami.
The third Bobcat that can make a difference is sophomore guard Taylor Herd. Herd, who didn't play in last season's game, shot 39 percent from behind the arc in the team's first 25 games of the season, but finished the season shooting 2-for-26 from behind the arc in the last seven games.
She may also see very little playing time on Saturday as she only played two minutes in the MAAC Championship game after starting in the team's first 20 conference games. If Herd does get a considerate amount of playing time on Saturday, it would more than likely mean that she is shooting well, possibly making her the biggest X-factor.
The final caveat for the Bobcats is that the Hurricanes have only allowed their opponents to shoot 29.4 percent from 3-point range this season. However, the Hurricanes allowed a similar amount last season at 29.7 percent.
This leads one to wonder how the Bobcats shot so well against the Hurricanes last season.
In last year's game, 24 of Quinnipiac's 28 made shots were assisted. Quinnipiac has continued emphasize passing this season, as it is 17th in the nation in assists per game (17.1).
The Bobcats have emphasized passing the ball around to find the first open look all season long, and they'll have to stick to their identity in order to win on Saturday. And more importantly, their 3-point execution will probably be the determining factor.