Feldman leads men's lacrosse past Canisius 17-9
Quinnipiac men's lacrosse is one game away from clinching a regular season championship after its 17-9 win over Metro Atlantic Athletic Conference rival Canisius on Saturday afternoon.
[media-credit name="Hailey Guarracino" align="alignright" width="300″]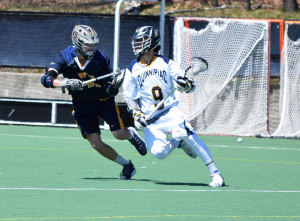 [/media-credit]
"I give the guys all the credit they've worked very hard and followed the plan," head coach Eric Fekete said. "We've still got a lot of work to do but we're headed in the right direction."
Bobcats sophomore attacker, Brian Feldman, potted a season and career-high seven goals, while junior goalie, Jack Brust, made 12 stops en route to Quinnipiac's seventh win of the season.
Just 2:30 into the game Quinnipiac freshman midfielder, Foster Cuomo, tallied the opening goal to put the Bobcats on top 1-0. The Bobcats went on to score two more goals until the Golden Griffins cut the lead to 3-2 with 5:36 remaining in the quarter.
Keenan and Feldman each scored again for Quinnipiac and Canisius midfielder Connor Kearnan scored before the end of the first quarter to make the game 5-3 going into the second quarter.
In the second, Canisius opened up the scoring before the Bobcats absolutely exploded for five goals from five different scorers to make it a 10-4 game before the end of the half.
Fekete noted how his team's defensive abilities ultimately provided opportunity in the offensive end.
"We talk a lot about stops, clears, and possessions," Fekete added. "That's the way the game has to be played."
Quinnipiac continued its dominance after halftime when Feldman scored his fourth goal of the game early in the third quarter. The Golden Griffins would ultimately score two goals and win the half, however, the Bobcats took a 12-6 lead going into the final quarter.
In the fourth quarter, Feldman picked up right where he left off, scoring his sixth and seventh goals of the game followed by a quick strike from junior attacker Drew D'Antonio. Both of Feldman's goals broke his previous career-high of five goals in a game and gave him a total of 27 on the season.
"It felt great having seven goals, Feldman said. "But I've really gotta give it to my teammates for looking out for me and seeing me open."
Fekete admired Feldman's assets in this game as well.
"I think one of the things we talked about on this team is everybody has a different role or job to do and part of that is the offense," Fekete said. "He's been on a mission, he's a goal scorer straight away."
Canisius added two more goals before freshman attacker, Matt Frost and sophomore attacker, James Byrns, notched goals of their own to solidify the victory at 17-9 in favor of Quinnipiac.
With the win, Quinnipiac now seek to add onto their successful season in the MAAC moving forward.
"We want to win every game that's in front of us," Fekete said. "You've just got to stay focussed one game ahead and the only game that matters to us now is Monmouth, that's the next on the agenda."
The Bobcats will travel to face off against Monmouth next game on April 23, with a regular season championship at hand.