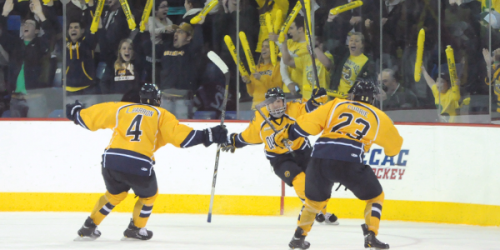 The Quinnipiac men's ice hockey team has been faced with adversity all year long.
Trying to maintain a 21-game long undefeated streak, and dealing with the repercussions of being the nation's No. 1 team for five weeks now are just examples of the pressure that the Bobcats have faced.
Sunday night, in the third and final game of the ECAC quarterfinals against Cornell at the High Point Solutions Arena, Quinnipiac faced even more adversity. Down 2-1 with a little over one minute left, the Bobcats pulled goalie Eric Hartzell.
[media-credit id=1459 align="alignright" width="300″]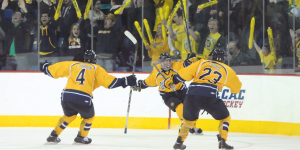 [/media-credit]
Looking for a goal, senior forward Clay Harvey found the puck amidst a scrum of bodies in front of the Cornell net and blasted it past goalie Andy Iles to tie the game at two with only 1:04 remaining. Kevin Bui then won it for the Bobcats 14:08 into the second overtime period, putting it through the five-hole of Iles. With the 3-2 win, Quinnipiac moves on to the ECAC semifinals next weekend in Atlantic City.
"That was a great college hockey game," Quinnipiac coach Rand Pecknold said. "I'm extremely excited. It was some good drama, and our guys battled back well."
For Bui, it was his second goal of the season.
"I was just trying to get up ice as quick as I possibly could," Bui said. "I found a way to get it past Iles, and the next thing I know a bunch of bodies are on top of me celebrating."
For Cornell, the story of the night was Iles. The junior goalie made 60 saves.
"Iles was the best player on the ice, just like Friday night," Pecknold said. "I give him a lot of credit."
On the other side of the ice, Hartzell made 29 saves of his own.
Braden Birch netted the first goal of the night only 48 seconds in. Birch skated past two Quinnipiac defenders then went top shelf on Hartzell, ending the Bobcats streak of scoring the game's first goal at seven.
Quinnipiac then tied the game with 10:16 left in the second period as junior defenseman Zach Tolkinen drilled a shot from the point past Iles.
The Big Red regained the lead only 1:04 later, however, when Cornell forward Brian Ferlin sniped a shot past Hartzell. It was Ferlin's third goal of the series.
Harvey then netted the goal to tie the game, and Bui to win it.
The Bobcats outshot the Big Red 15-8 in the first overtime, then 14-1 in the second.
Loren Barron, Jordan Samuels-Thomas, and Jeremy Langlois all had an assist on the night.
Ten posts were hit on the night, five by each team. Quinnipiac found iron twice in the two overtime periods, Cornell once.
Quinnipiac will play Brown next Friday, in hopes of advancing to the ECAC championship game on Saturday.
"We played three really tough games in three days," Pecknold said. "We've got to get some rest, then get ready for next weekend."